The House that Love Built
Down a dusty street in an outback town in Baja California Mexico, a man named Salvador bought a piece of dry, sandy property. He worked hard to pay for it, and he worked even harder to make that piece of property into something that would be a place of welcome and shade from the hot desert sun. Over the 30 plus years that he has owned that property Salvador has loved his garden and the people in his life. 
Salvador's first wife died many years after he bought the property. The two of them never had any children together, but always there was the garden. Salvador poured his love and resources into that garden and made an oasis around the little rickety tin and cardboard house he had on that property. 
After his wife died, life began to move on, and he focused on work and his property. 
Until he met Maria.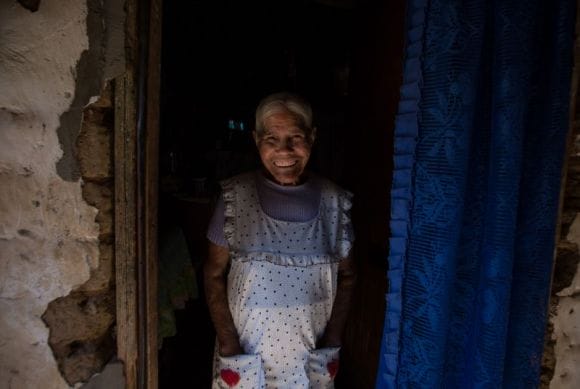 Maria had been widowed years earlier as well, and she was in a predicament. Her children lived far away and she didn't actually have a home to call her own. The two of them met at a seniors event in the town hosted by a local woman named Gina. Gina works and lives to serve the people of her community and her heart holds a special place for the senior citizens within it, ensuring that they have their rights maintained, that their voices are heard, and that they have access to as much as she can help them get from the government. Gina is a light of leadership and hope in a place that sometimes lacks both, and her fingerprint can be found on so many of the families we work with in the area. Maria had been staying with Gina at the time, and as fate would have it, the houses were across the street from each other. 
Soon Salvador and Maria could be seen out together, grinning from ear to ear, clearly enamoured and in love. Theirs was a love born out of wisdom and kindness, and was like a gift earned after many hard years of struggle and loneliness. They were married at the age of 70 and 74, and when we met them last week, they had just recently celebrated their fourth anniversary. 
On the first morning we were on their property and working on what would become they beautiful new home, I stood in the doorway of Maria's old "kitchen". In reality, you wouldn't have even recognized it as such: it had an open clay baking hole, a wooden tortilla press and a cardboard and chipboard countertop that was broken and rickety. Her walls were made of cardboard and a had a rusty tin roof over it to keep the elements out. I had been walking by with a paint brush in my hand and I could smell her tortillas baking. I tucked my head in to say how good it smelled and I was met with her beautiful smile and kind eyes as she held out a fresh, hot tortilla to me to sample. It was delicious. Maria loves to serve others and make them feel at home and she succeeded in every way possible with each of us in a special and unique way.
During our time with them, Salvador was torn between two things: making sure we made the house to his liking (he told us he fully approved!) and to keeping an eye on Maria, answering her every beck and call. He loves her with his words, his actions, and his service. She gives him the same and we were all witnesses to it during our time with them. Every night we would sit and talk about how beautiful it was to watch them together, encouraged by their love and commitment to each other.
As we handed the keys to them on our final day, each of our team had the chance to tell them of our wishes and blessings for their new home. Their previous homes may have only looked like a dry stack of wood, tin and cardboard, but it was the only one they had and it was filled with love, warmth, memories, and kindness. This new home we built them doesn't hold those memories, but it holds hope and that hope is built on the same substance that their lives have been built on for all this time. It was built with love in mind, and I am confident it will see much love over the years ahead. 
I have heard it said that when you find love the second time around it can be even sweeter. Perhaps it is true.
There is something very beautiful, freeing, and hopeful in that statement. Who knows? Perhaps we are born for one true love, perhaps we are born for more. Whatever the eternal truth is, I know that we are born for what love provides for us. Without it we lack depth, meaning and connection. With it, we soar to limitless heights and depths of our humanity, and it is always worth it. 
Perhaps tonight Salvador will sit in his rocking chair on his new front porch, looking out at his garden and thanking the heavens above that inside that warm, cozy house is a woman who loves him. And I hope that together they will sleep knowing that they are not forgotten.
Christal – LiveDifferent Co-Founder