St. Aloysius Gonzaga Secondary School Blogs and Updates
April 23rd
We arrived safely to the Dominican Republic on Saturday evening. We met with the Live Different staff, and checked into our resort room.
April 24th
On Saturday morning we attended mass. We were wearing our LiveDifferent t-shirts and actually got called up to the altar to represent the organization! A student from our group said a small speech about why are here and what our mission is. We even made it to the local news channel!
After mass, we visited a community where LiveDifferent has previously built houses. It was a crowded community of about 3000 people that live by a river. Because of rain, the river would often overflow and flood some homes. We were able to meet the families for which we were building houses. We had the opportunity to speak with them and ask them about their life. They were very open and friendly, and grateful for what is soon going to be their new home. We finished off the day perfectly with a nice dinner and karaoke!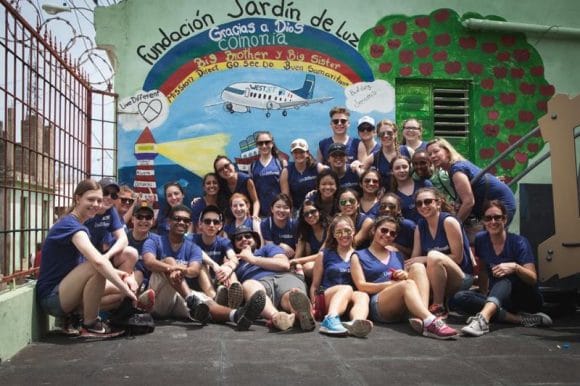 April 25th 2016: Project Day 1
Today was a very exciting and productive day. We woke up to a little bit of rain, and got ready to head to the worksite. Before we arrived, we stopped at the two houses the previous year's Life Different group had built – it was emotional for the people who returned this year. They got to see the house they built and how it was very well taken care of, the beautiful family that is still so grateful for their new home, and the fact that their old house would have been flooded due to the rain this morning. For the newcomers, it was amazing to see the expressions and joy this family had because of the new house, and because of Life Different. Thinking about it now, we are excited to see that our students, with LiveDifferent's help, will have the privilege to build another beautiful home for yet another beautiful family by the end of this week.
After the bumpy bus ride to our current worksite, we were given instructions and got right into work. Some of us mixed cement, others carried bricks and buckets or shoveled dirt, and others spoke to the family through our trusted translator Rafael or visited a family just a few houses down to experience a "Day In the Life" of that family. We learned so much about what it takes to build a house, and it was quite different from what we were used to.
Everyone has been working very hard. We're all strong, determined, and happy to be where we are. We're working alongside contractors, who taught us and helped us build the house. Luckily it was cloudy today, and it would sometimes rain which was refreshing. It was very muddy, and our house backs onto a steep valley. One of the families we're building for consisted of a pregnant woman, her husband, and two children. The house they are currently living in is wooden house that's close to a river.
At around noon we left to go to pastor Garcia's church for lunch. We were all together, smiling, laughing, sharing stories and eating our food. A few kids came by, and they loved to hang on our backs and play tag with each other. We would practice speaking Spanish by asking them their names and how they were feeling today. I noticed how many kids here in the Dominican Republic do not wear shoes outside. I didn't know whether it was their choice, or whether they couldn't afford any, or didn't have any. It was pouring rain and the beginning of our lunch, and the kids would just walk barefoot on the cold, hard and slippery cement, but it was like it didn't bother them one bit.
After lunch we returned to the worksite. We continued our hard work for a few more hours before we left to go back to the resort. By the end of the work day, we literally put our blood, sweat, and tears into this house. It is an experience that will stay with us forever, and change the family's life for the better.
April 26th 2016: Project Day 2
Today was an easier day because we weren't so overwhelmed with this new environment. Also, the family we were building for was very generous; they cooked a local meal we call fried pig, but to them its called "chicharon". It was absolutely delicious! They made us feel at home by eating and laughing with us. It was very nice and heart warming to know that they accepted us into their home. Also when it came to the house building, we worked to finish off leveling the floors and started the smooth coating on the front of the house. And of course the kids were out to play today, jumping on peoples backs, talking and laughing with us. We also started playing basketball with them, but our competitive natures came out and it became a teacher and student game.
April 27th 2016: Project Day 3
The houses are now halfway done, but there's still a lot to do. We learned to communicate with the contractors through hand movements and simple Spanish phrases like "agua", "aqui" and "si" and "no". When the contractors needed more cement mixture they would shout "mekla, mekla" and we would all form a bucket line to pass down the mixture. They would also shout "agua, agua" when they needed water and "no mas" for no more.
After the workday, we took showers and got ready for a nice dinner in the neighbouring city. We had dinner right by the sea, and it was beautiful and delicious. At some point during the meal, a mariachi band sang to us. It made the night even more special.
April 28th : Project Day 4; Final Project Day
I was excited and nervous about today because I really hoped we could paint, and because I had my Day in the Life experience in the afternoon. When we arrived at the worksite, as always, we were surprised at how hardworking the contractors are. They would always leave after us, arrive before us, and have a much shorter lunch than us. Because of them, we learned how to build a house, and because of them we were able to paint today.
The priority was to level the floors. A group of people pick-axed the dirt from the land across the road and brought it into the house, a group sifted sand that would be used to create a mixture ("mekla") for the smooth coat of the house, and a group painted. We all had our designated jobs to do, we had music, and we just enjoyed it all. Although our jobs were hard, we had an amazing team of students, contractors and LiveDifferent leaders that made it a lot more fun.
After lunch, I headed off with two of my classmates and translator Anthony for Day in the Life. We visited a single and unemployed mother of five daughters, who also took care of a one-year-old son who wasn't even hers. We helped them clean the house by sweeping and mopping, and we helped make dinner. They taught us how to make chicken and rice, and we even tasted it. It was really good! One of the daughters is actually a singer, and she sang a song for us. It was beautiful! She told us how she won a singing competition when she was only twelve! The mother was telling us how she spends most of her income on transporting her daughters to school because they live so far away from it. Their house was actually build by LiveDifferent, and the family was still so overwhelmed and grateful that now they can sleep soundly in a dry place when it rains. It was great to see that even after three years they took care of their home very well. We knew that the homes we were building would also be taken care of very well.
April 29th : House Dedication Day
Today was not a work day. In the morning we visited a monkey jungle, and the ceremony for house-dedication will begin in the afternoon. The monkey jungle was very fun! We had little monkeys eating out of our hands and sitting on top of our heads. We learned that the proceeds of the tickets actually go to the medical and dental clinic in the back of the jungle. There are volunteers who offer free services towards those in the community that need it most. It was very cool to see that.
At around 2:00 PM Friday, we all wore our LiveDifferent t-shirts and headed to the worksites. Students who came on the trip on the previous year gave speeches and handed the keys to the families. It was very emotional. A lot of us cried because we put so much effort and hard work into these two houses, and we were so happy that now the families would not have water up to their knees when it rains. The faces on the families was priceless. The children were so happy. These houses would not only belong to one family, but everyone in the community was welcome inside especially when it rains. It was so beautiful to see how much we've accomplished and how far we've come as a team.
After the ceremony, we said our goodbyes to the families. It was very difficult since we built such strong relationships with each other. A girl became best friends with one of our students, others gave bracelets and letters. It was so sweet, which made it more difficult to say goodbye. When we arrived back to the resort, we were given a very motivational and inspiring speech by one of the LiveDifferent representatives – Cole. Some of us ended in tears. After that, we said our goodbyes to the LiveDifferent workers that guided us on the trip. We formed some really deep connections with people during these eight days. It was so sad to leave such an amazing place filled with such amazing people. We had such a great time and experience that we will never forget.
April 30th : Departure Day
Our flight leaves in the late afternoon, so we had all morning to do whatever we wanted. We sipped our last "Banana Mamas" and "Pina Coladas", played our last games of pool, and ate our last meals from the buffet in the Dominican Republic by the sea. We all had fun and shared our last moments here together. We said our final goodbyes to the staff of the resort with whom we also built relationships, and the LiveDifferent leaders. This day was also full of tears. Although some of these memories will fade, the future of the people to whom we build houses will be forever changed. This is just the beginning of some of the amazing and life-changing things my team and I will do in our lives.
– Viktoria, St. Aloysius Gonzaga Secondary School Volunteer