A Love Note From Maria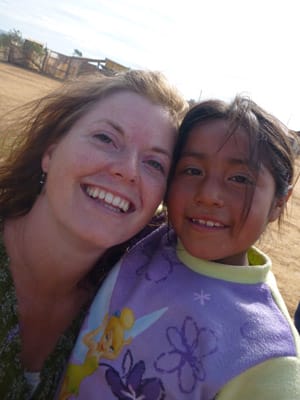 She likes to play with her friends, take care of her younger siblings, meet new people, and is always eager to learn new English words. Maria goes to the school in the community that LiveDifferent (formerly Absolute) helps to teach English at, and everywhere Rose turned this past year, little Maria seemed to be there, hauling her younger brother around behind her, eager to play and connect with any Hero Holiday team members that she could. She had found something she wanted, and she wasn't going to give up that easily.Just before our staff and students left Mexico to come back to Canada for the end of the past semester, Maria's mom showed up at the school on their last day teaching there. She came all that way to say thanks for being role models for their children in that community. It was so simple, so authentic and so encouraging that since the day I found out about it, I find myself smiling at the mere thought of it because she got it – she really got it.
Our Hero Holiday staff work hard to find inroads into the community there. Life is quiet and people keep to themselves a lot, trying to focus on making sure they make it through the month, the week, or even the day. Maria seems to be oblivious to all of the hardships that she faces on a daily basis. Her family is just as poor as the next one, and yet that never seems to stop her from imagining far away places or from reaching out to learn about new people.Our goal in their community, and everywhere we work, is not to tell them what to do. We don't see them as a project in need of rescue and we don't want them to feel like they are the object of our charity. We want to work as partners for their success, just like we do in Canadian high schools. We can do this by recognizing the fact that the only thing that separates us is opportunity.The world doesn't need any more untouchable 'heroes'. We have too many people already who are idolized for their fame and never seem to have the character to match up.
The world doesn't need someone to come in and rescue them, either; nothing is ever gained in the long term by a short term rescue operation. The world around us needs role models: people who recognize that their lives can bring hope and spark purpose in others' lives. A role model helps you to believe that anything is possible, and they leave behind an indelible footprint on your life that can help to become a path to follow.Before our group left to come to Canada last month, Maria dropped off a note for them. It was a long note of thanks from a little girl with a heart full of dreams. It was a love note between friends.Four hours south of Tijuana, Baja California, lies a string of towns that make up the San Quentin valley. Technically, it is a desert, and rain is a luxury they seldom see. Like many places all over the earth, life is difficult and survival is not a given. The wind seems to be the one constant thing in that place, always blowing up the sand and dust. But behind each doorway into a home lies families and individuals who long for more than just survival: like Maria, they want to live out their own dreams, too.You can join us this year in Mexico! We would love to have you come and experience the power of making a difference through one of our many Hero Holiday trips. Check out www.livedifferent.com.