Welcoming hope: Two sisters find a new beginning at Freedom Village
At LiveDifferent, we believe in the power of change, the potential for transformation, and the importance of community. We are thrilled to share a heartwarming update that marks a significant step forward in our mission to make a difference in the lives of youth. We've welcomed the first two girls, sisters, into the Freedom Village in Haiti.
Emanuela, our dedicated house Mom at Freedom Village, has opened her heart to these brave young girls. Her nurturing and unwavering commitment to their well-being has already started to make a  difference in their lives.
Life hasn't been easy for these sisters. They've faced adversity that would have left most of us feeling defeated. But what sets them apart is their unyielding spirit, resilience, and the hope they carry in their hearts. It's a hope that's not only helping them overcome their past but propelling them toward a brighter future.
Thanks to our incredibly generous donors, this opportunity has become a reality. This support has created a safe haven for these girls and many more who will follow in their footsteps. The Freedom Village stands as a symbol of hope, a place where dreams can flourish, and lives can be rebuilt.
LiveDifferent's Manager of Construction and Logistics and Community Liaison, Frantzo Begin says, "Today it is a pleasure to be here and to see the dream we had a long time ago and see the reality of the dream. There's no words to say how appreciative we are for the work LiveDifferent is doing because of all the donors and the support from the LoveLegacy community."
In the community of Calvaire, these sisters are discovering a new family, a loving environment, and the support they need to thrive. They're not just learning, growing and living; they're embracing a second chance at life.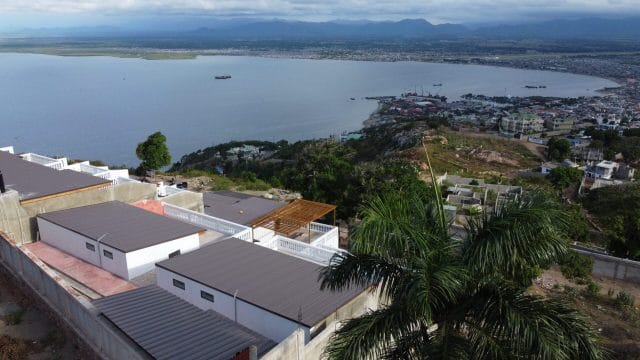 Thank you to our donors for helping us make this new beginning possible for these two sisters. Together, we are creating a world where dreams are not just chased but caught, where lives are not just lived but celebrated, and where adversity is not a roadblock but a stepping stone to a brighter future.
Learn more
Freedom Village will soon have the capacity to house 28 girls who have experienced abuse through Haiti's Restavek system.
Want to get involved? Become a monthly LoveLegacy partner and watch your contributions change lives.
Sign up for our newsletter to receive monthly updates about our Compassion Projects in Haiti.