A win-win situation!
I was fortunate enough to take part in a hero holiday in Dominican Republic from April 4-13. How I got there with a bunch of westjetters is a story in itself!!!  Up until I received a misdirected phone call I had NO idea who LiveDifferent were, much less what they did. I operate a small convenience store in a very small community in rural Newfoundland with a population of just under 500 people. At the time I received a phone call that was intended for our school (it seems that LiveDifferent was contacting our local school to come do a presentation). While phone to ear and hands vigorously typing on laptop I quickly came to the realization of who and what LiveDifferent really are. I asked the person on the other end of the phone how to register online…and it spiraled from there. I am happy to report that a few months ago LiveDifferent did indeed do a presentation at our local school and I did indeed register and go on the hero holiday as well!!!   It was a win-win situation!
I have said from day one that " everything happens for a reason" and YES,  I know that now to be true.  Not only did I meet 30+ fantastic people who completed this journey with me,  I also met hundreds of Dominican and Haitian people as well. I have also said that from the very beginning of this journey that it was like an emotional roller coaster for me. I honestly have no other way to describe it. I cried enough tears while I was there to fill an ocean I'm sure, but at the same time, one huge smile could absorb it all.
I find it very hard to put into words all the feelings that consumed me while on this journey, and it really doesn't matter because no amount of words, story telling, or photos could even begin to describe the feelings that one will endure after completing this type of journey. My only regret is that I did not find out about this earlier in my life however that will not stop me from continuing on to help for as long as I can.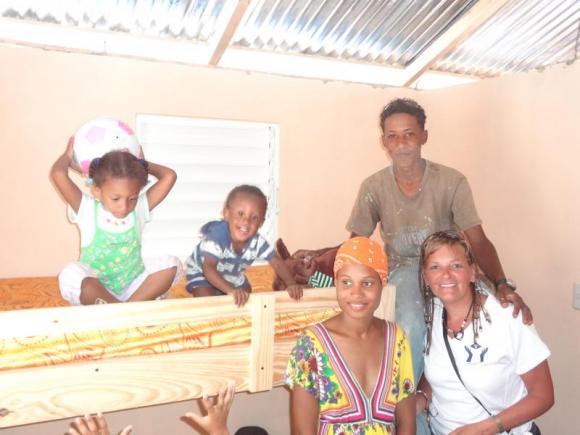 I feel that not only did I go help build houses for five families, I also built life-long friendships with my fellow workers, the Dominican people, and the phenomenal crew of LiveDifferent. I will DEFINITELY go do this again and again and again.  The smiles on every face makes every blister, every tear,  and every sad moment  SO worth it at the end ! There are a lot of problems around the world and yet there is always hope…and I'm feeling so blessed right now that I actually got to be a part of that HOPE and let me tell you it feels Awesome!! 
They certainly named it right when they named the organization LiveDifferent because anyone ever fortunate enough to participate in this will most certainly  LIVE  DIFFERENT!!
Janet – LiveDifferent Hero Holiday Volunteer, Dominican Republic 2013