What does "Life is About People, not Stuff" mean at Christmas?
LiveDifferent's motto, 'Life is About People, not Stuff', can make us pretty uncomfortable around the holiday season.
It's uncomfortable because we're bombarded with messages to buy expensive gifts to prove to people that we care about them. It's uncomfortable because people literally push, shove and even trample over one another to get the best deals on whatever the hot item is that year. It's uncomfortable, because most of us have more than enough already, and don't really need any of the stuff that's going to be waiting for us under the tree on Christmas morning.
Black Friday Shopping or WWF Wrestlemania?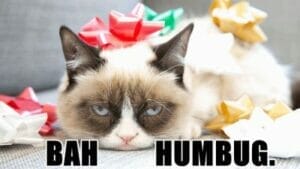 If we embrace a lifestyle that is about people, not stuff…does that mean that we just don't do Christmas anymore? That we stand up against the consumerism of it all, and refuse to take part? That we 'Bah Humbug!' anyone who tries to give us another pair of socks?
I'll be honest…I've had my moments where I've done all of the above, and I certainly dampened everyone's Christmas Spirit! I even remember one Christmas when I'd just returned home from a LiveDifferent Build, and I was absolutely against getting any presents because I'd just met so many people who had so little. I told everyone in my family that I couldn't, in good conscience, accept any gifts that year! (Which, as it turns out, wasn't very helpful to my Mom or Dad, who just wanted to get me something nice to show their appreciation at Christmas!)
It's hard, because it is true that we really don't need any more 'stuff'. It's true that there are so many people in the world who have very little and could benefit from us spending less on ourselves, and more on causes that can make a real difference. But, it's also true that if 'Life is About People, not Stuff'…then at Christmas, and throughout the year, we should be focused on giving to people, instead getting stuff.
There's an awesome video that's been making the rounds this year, and I think it shows this perfectly. A group of kids get set up in a social experiment, where they're given a tough decision to make. Watch it and see what happens!
It's kinda hard not to tear up when you hear these kids, who have the exact gift they'd asked for sitting right in front of them, choose instead to take a gift for their family over and over again. And when they're asked why, they say that family is what matters, that they want to give back to their parents who have given them so much, or that they're excited that they have the opportunity to give something nice to their mom, who hasn't had a nice gift in a long time.
These kids get it. Life is about people, regardless of stuff. And at Christmas, it's about making sure the people we love can feel it – that they know that we appreciate them and everything they do for us.
And hey, if you're really worried about staying away from the consumerism of buying all kinds of unnecessary stuff, there are so many creative gift options you can choose instead! You can hit up Pinterest to find dozens of DIY gift ideas. You can support your local economy and buy something made in your own hometown. You can even make a donation to a charity as your gift, knowing that your gifted support will make a real difference in the life of someone who needs it! Choose a cause you care about, such as your local food bank or shelter, or look up the awesome Christmas gift ideas from your favourite charity, like Charity Water, World Vision, Plan Canada, or even us here at LiveDifferent!
So, go forth and celebrate the Christmas season in full LiveDifferent style, without feeling guilty about it. Instead, be excited that there's an entire holiday dedicated to showing the people in your life how much you care about them! Yes, that might mean giving a gift that someone does not technically need, but that will show them that they're loved. In the end, that's what Christmas is all about!
– Cindy & LiveDifferent